Upshot is the fastest way to take a photo, video, or audio note and save it into Dropbox. You can then review it later or share a link with one tap. All of your files are securely stored in your own, private Dropbox account. Don't let an inspirational photo, video, or note go un-captured.
We also support URL Actions, which let you connect Upshot to other productivity apps like Drafts. You can launch Upshot from other apps, and even upload any file into Dropbox, instantly.
Upshot Supports...
Photos from your camera
Videos from your camera
Photos and videos from your camera roll
Audio and voice recordings
Text notes
URL Actions, so you can integrate Upshot with other iOS apps like Drafts.
Compatibility
Compatible with iOS 8.0 and above.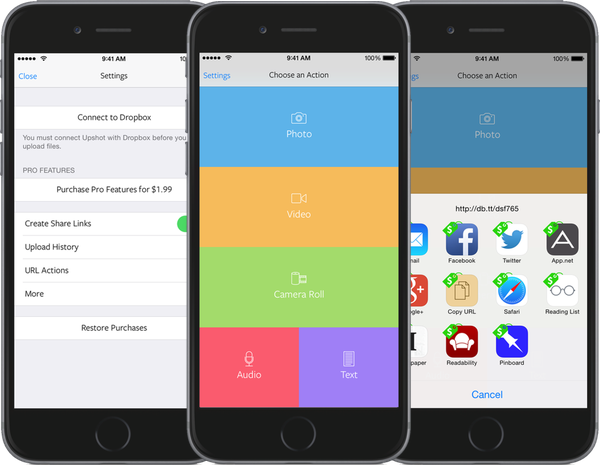 Our Guarantee
We want you to be happy — really. If for any reason you don't like Upshot after purchasing, feel free to email us. We'll be glad to issue you a refund — no questions asked.