VirtualHostX 2.0
Sunday, July 19, 2009
Today I'm thrilled to announce that VirtualHostX 2.0 is available. It's been a long time coming (probably too long), but I'm glad it's now available for everyone to download. Aside from a new icon and a polished UI, VHX 2.0 offers many refinements and a few major improvements.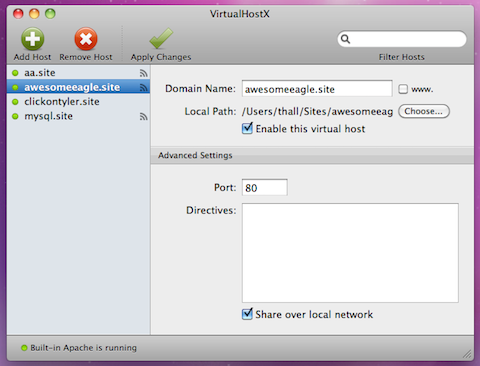 First on the list is Bonjour sharing of your virtual hosts. This means that your virtual hosts can be seen by other users on your local network. All they need is a Bonjour capable browser like Safari or Firefox (with the BonjourFoxy plugin).
Shared hosts will appear with a special sharing icon in the sidebar so you can easily see what you're sharing with the world.
In addition to working with Apple's built-in web server, version 2.0 also adds improved support for MAMP and compatibility with XAMPP. You can choose which of the three web servers to use from VHX's Preferences window.
Finally, VirtualHostX now offers finer grained control over your web server. You can manually start, stop, and restart, check its current status, and also scan for problems with your config files.
VHX 2.0 is available for $15. Existing users can upgrade for $5.