Say Hello to VirtualHostX Pro
Monday, December 02, 2019
It's been a long time coming. In fact, work originally began on today's new VirtualHostX release back in February. So, I'm beyond excited to announce that VirtualHostX Pro is now available.
Well, kind of.
You can go download and use it. You can also buy it. But it's not 100% feature complete quite yet. It's definitely safe, stable, and waaay better than the previous version. But there are still a few more new features that are currently in-testing with a small group of users. The plan is to have everything completely finished in time for an official launch on January 6th.
So, what's new?
Well, for starters, it's the biggest update ever.
Modern, new UI.
Free, automatic SSL certificates.
Use Dropbox or iCloud to sync and restore backups of your websites and databases and rollback to previous versions.
Take control of your default web browser.
Automate VirtualHostX using AppleScript or the command line.
View your coworker's shared websites from the other cube or across the internet.
macOS Today widget.
And if you purchase before this Friday, December 6th, you'll save $15 off today's update and every future update, forever.
New, modern macOS UI
I've taken cues from the latest breed of powerful macOS developer tools and rebuilt VirtualHostX's UI to feel right at home on macOS Catalina.
But more than a fresh coat of paint, we've added a brand new status bar that keeps tabs on what's going on with your websites and the server, so you'll know at-a-glance that things are running smoothly.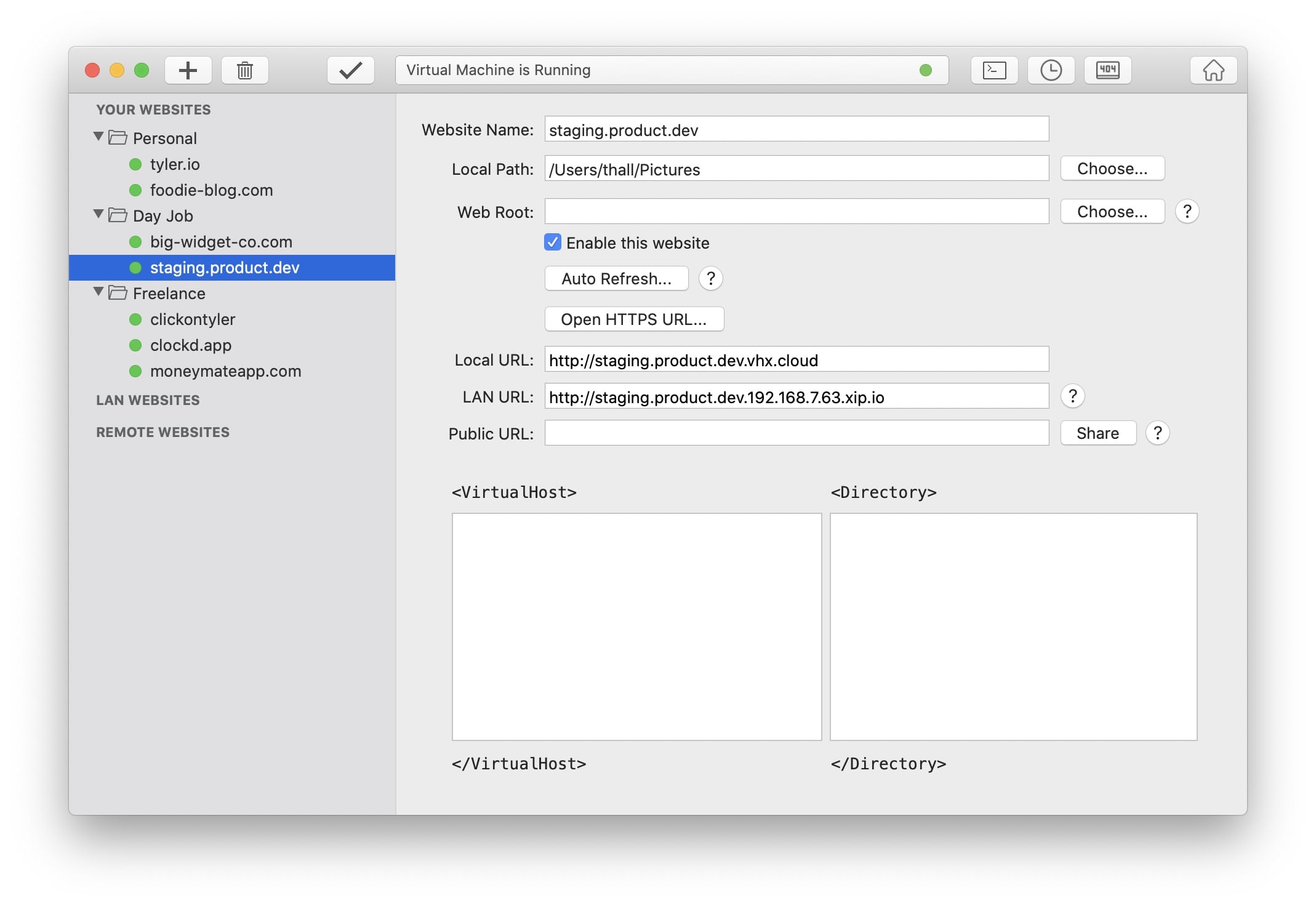 Free, Automatic SSL Certificates.
Many of our customers use VirtualHostX to run production websites. Now they can do it securely.
VHX can install and configure a free Let's Encrypt SSL certificate for your public-facing website so your visitors see a trusted HTTPS padlock in their browser.
And if you're just testing your website locally, you can use our own SSL certificate or bring your own.
Backup and Restore.
We all make mistakes. Now you can take snapshots of your websites and restore to any previous version.
VHX can backup all of your website's files and databases, and you can optionally store them in Dropbox, iCloud, or Google Drive to keep them synced across your Macs.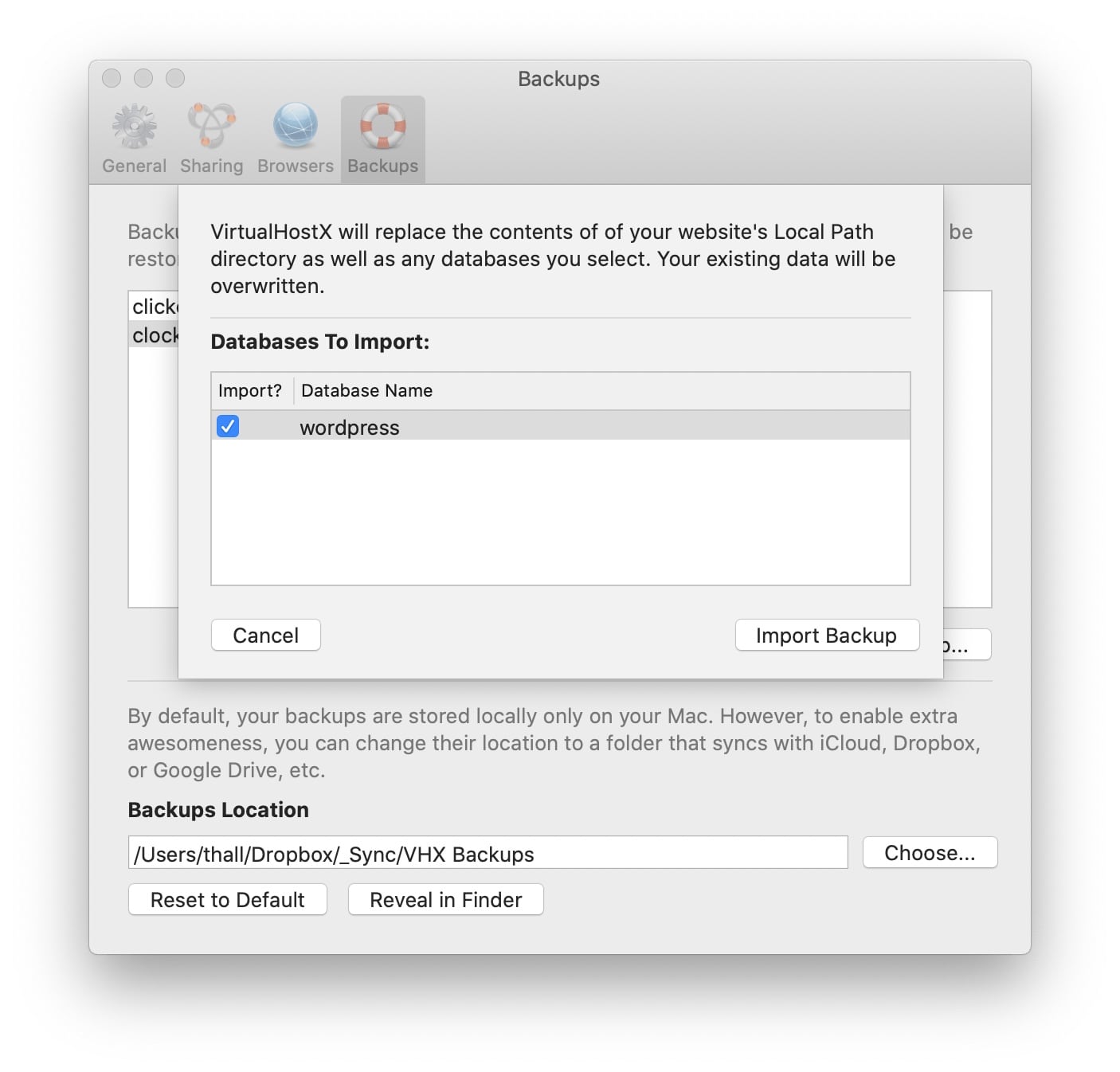 Take Control of Your Default Web Browser.
Make VirtualHostX your default web browser.
That's right. You can now make VirtualHostX your Mac's default web browser. When you click a link in another app, VHX will prompt you to choose which of the actual web browsers on your Mac you want to open the link with.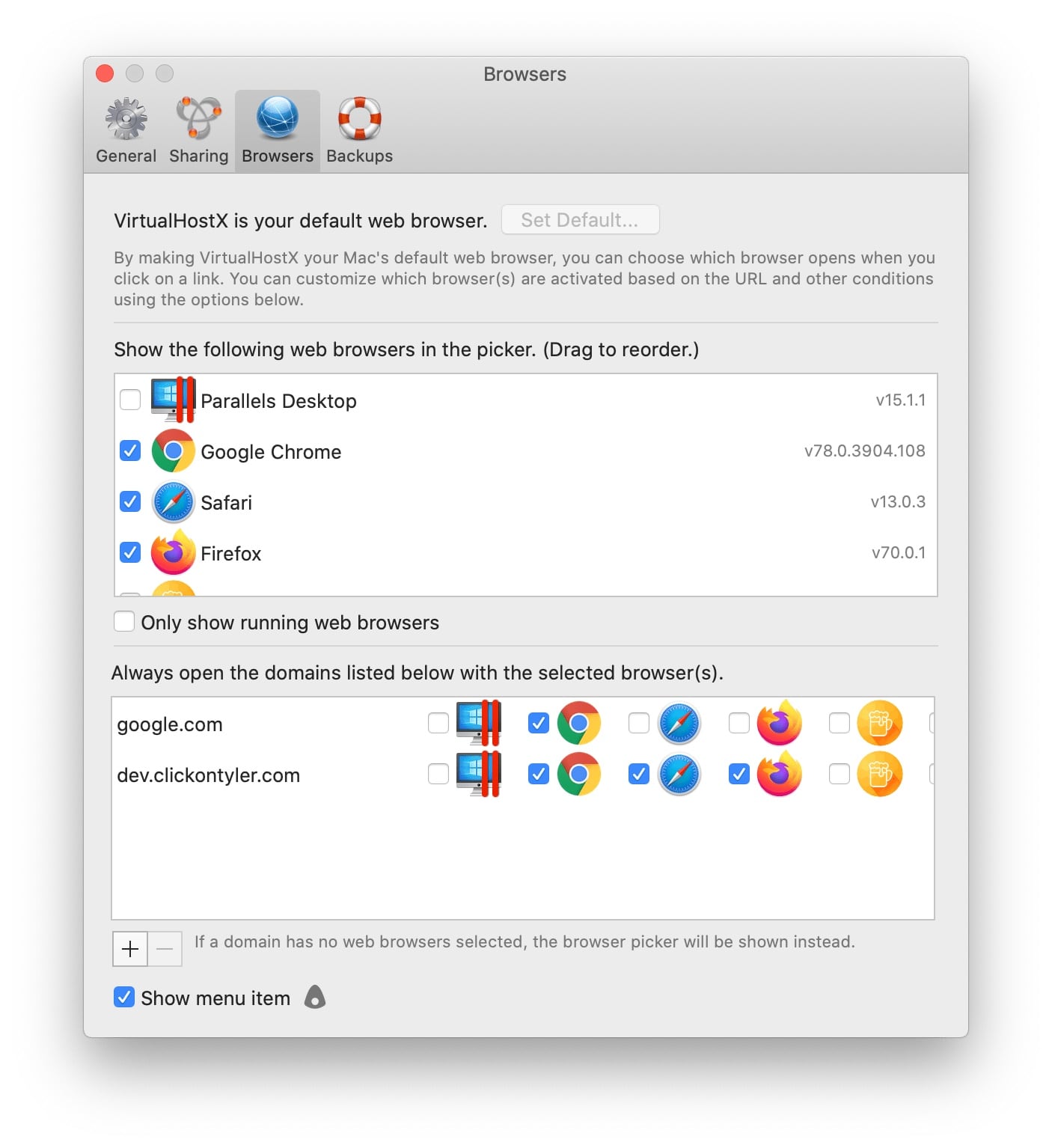 Website Sharing. Built-in.
Whether across the world or sitting in the other cubicle, VirtualHostX can help you share your in-progress websites with friends and coworkers.
And when they share websites with you, they'll automatically appear in the VHX sidebar beneath yours. It's a great way to gather feedback on what you're building.
But, privacy first! Nothing is ever shared without you first opting-in.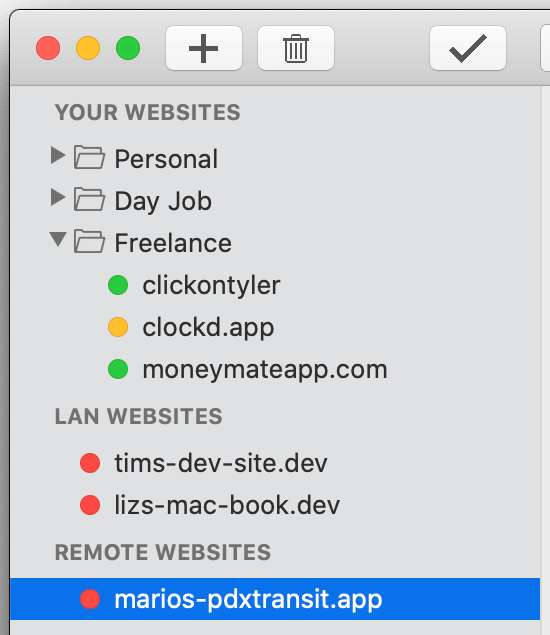 Automate VHX with AppleScript.
Ok, ok. This one's totally for the nerds, power users, and systems administrators.
Now you can bend VirtualHostX to your will by automatically creating and editing websites with AppleScript. You also have full control over starting/stopping/restarting the virtual machine and performing other tasks.
Want to include VirtualHostX in your CI tests or CD pipeline? Now you can.
A note about the new pricing model
Yes, VirtualHostX has switched to a subscription model. But, it probably won't actually affect you. Here's why.
Many of the new features in this release have been in development for the better part of 2019. I've been using the default browser picker functionality every day since March. It's great :-)
But adding big, new features to an app can be a problem for small, independent developers like me. The last paid upgrade was version 8.0 - over a year ago. It shipped with some significant updates and I continued to add new features and make improvements throughout the year.
However, the majority of my income comes from upgrades - not new customers. That means I have to give folks a reason to upgrade to newer versions. And if I continue to release significant new features into versions that have already been paid for one-time, when it comes time to release a paid upgrade, there's virtually no incentive for customers to upgrade.
It would be great if I could survive on new sales alone, but I can't. Not many small software companies can. So, we all end up holding back new features until they can be released in a big-splash paid update.
I don't mention all of the above to make it sound like "oh woe is me, a poor indie developer". It's just the facts of running a small software company.
So, what can be done to keep my little company in business and also keep things fair for customers? I like the solution I've settled on...
VirtualHostX is now a subscription. You can pay $49 USD / year or $5 USD / month.
The annual price is the same as the old one-time cost. And I'll note that I typically release a paid upgrade every 12 - 18 months. So, if you are like many of my amazing customers who do update to each new release, the cost of doing that vs a subscription are more or less the same.
But! There is a key point I want to make.
If you sign up for an annual subscription, you can cancel it at any time. In fact, you can subscribe, get the confirmation email, and then immediately cancel. Your license for the app will continue to work through the entire year.
Even better. Your license will remain valid and working forever.
The only caveat is you will be limited to using the last released version within your subscription period. If you find that the app works great for you and you want to cancel, please do! You're welcome to use the app as long as you are happy with it. But if you want continued bug fixes and new features, I just ask that you buy a new license when you're ready.
That way, you're incentivized to pay for my development time. And I'm incentivized to continue improving the software so that you're willing to pay for it again.
On the other hand, there is a monthly option for $5 USD. If you cancel a monthly plan, the app will stop working when your plan expires. Full stop. It's also clearly the more expensive option over the course of a year. So why offer it?
For individual users, freelancers, etc. I think the annual option is a way better deal. The monthly plan serves two purposes:
For customers who truly only do need to use the app very rarely or who just want a cheaper option to test the waters for a while.
It's primarily for businesses who want to offer VirtualHostX to their employees and may want adjust the number of licenses up or down on a month by month basis.
That said, if you are just getting to know VHX and using our free trial, please, please email me if you'd like more time than the standard 14 day trial to evaluate it. I'm more than happy to give you as much time as you need to make sure the app is right for you or your business.
Anyway, I hope that pricing structure makes sense and is a fair deal for everyone involved. Feel free to contact me directly if you have any comments or feedback. Happy to discuss things.